National Beta Club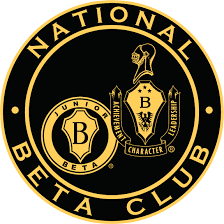 The National Beta Club is the largest independent, non-profit, educational youth organization in America. And for more than 80 years, it has prepared today's students to be tomorrow's leaders. It's mission is to promote the ideals of academic achievement, character, service and leadership among elementary and secondary school students.
ACHIEVEMENT - Recognizing and honoring high academic achievement
CHARACTER - Preparing young people for life and empowering them to be successful
LEADERSHIP - Developing the leaders of tomorrow
SERVICE - Demonstrating our motto: Let Us Lead by Serving Others
The Harrells Christian Academy Senior Beta Club has over 60 active members and engages in many service opportunities on campus and in local communities. The Senior Beta Club also competes at the NC State Convention and frequently qualifies for competitions at the National Beta Convention each summer. Many students have been crowned "National Champion" in a varitey of events the past several years.
Highlights from the 2018 State Convention
1st Place
Language Arts I – Aidan Kunst
Short Story – Lucas Thornton
2nd Place
Language Arts I – Nicole Dixon
Poetry I - O'Neika Williams
Fresh Look At Beta - Zaria Washington, Larson Cashwell, Sophie Dixon, and Savannah Wells
Show Choir - Brayden Sutton, Miranda Wells, Kyra Gensel, Cameron Simpson, Gracy Peterson, Sophie Dixon, Thomas Rhodes, Stefani Boussias, Annabeth Ellis, Madison Cannon, Jeana Grace Bowker, Olivia Toler, Ellie Carone, and Anna Rackley
3rd Place
Character Skit - Brayden Sutton, Miranda Wells, Caroline Jones, Abbigail Clark, Kyra Gensel, MacKenzie Harrell, Cameron Simpson, and Anna Rackley
Top 10
Fiber Arts (4th) - Jean Grace Bowker
Club Trading Pins (5th) - Abbigail Clark, Stefani Boussias, Annabeth Ellis, and Jeana Grace Bowker
Banner (5th) - Brayden Sutton, Kyra Gensel, Ivey Rouse, and O'Neika Williams
Agriculture I (5th) - Mary Lila Blackburn
Science I (5th) - Rhylee Pope
Science II (5th) - Brayden Sutton
Spotlight on Service (6th) - Ellie Carone
Campaign Skit (6th) - produced by Seth Harrell and performed by all students
Group Talent (6th) - all students
Speech (7th) - Gracy Peterson
Premier Performer Award - Abbigail Clark, Caroline Jones, and Ivey Rouse - This award, new to Beta Club this year, invites selected dancers and singers to come to the national convention and rehearse with a professional choreographer for a special performance at both the convention and a "flash mob" in the city of Savannah.