Alumni Love Stories
HCA Love Stories
At HCA, Crusaders are fortunate to experience a Christian atmosphere, quality education, long-lasting friendships, great opportunities, and (for some) even a love to last a lifetime! Check out some of the love stories that began at Harrells Christian Academy: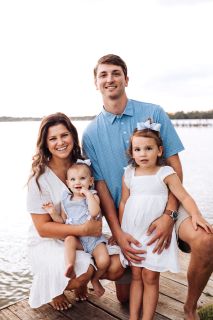 Phoebe (Campbell) Bullard '12 and Connor Bullard '12
Phoebe Campbell and Connor Bullard met when Connor transferred to HCA in 7th grade. By the end of 7th grade, Phoebe and Connor were boyfriend/girlfriend, and the rest is history!
Phoebe and Connor dated throughout the rest of middle school and high school, graduating from HCA in 2012. They both attended NC State University together. The couple graduated from NCSU in May of 2016, and they were married on June 10, 2017.
Phoebe and Connor now live in Elizabethtown and have two little girls, Campbell and Austin.

Kristin (Jernigan) Casteen '13 and Whaley Casteen '13
Kristin started kindergarten at HCA and met Whaley when he came to Harrells in 4th grade. They became really good friends in middle school and started dating during their Sophomore year of high school. Kristin and Whaley graduated from HCA in 2013 and also both graduated from NC State in 2017. The couple got married in March of 2020 and welcomed a sweet baby boy, James, in December 2022! According to Kristin, "HCA will always be so, so special to both of us - we made lifelong friends and so many great memories!"

Kristin (Robison) Cottle '06 and Bradley Cottle '06
In 2004, when Kristin Robison was a Junior at HCA, Bradley Cottle, who was also a Junior, transferred to Harrells. Kristin and Bradley instantly connected, and they officially became boyfriend/girlfriend when they went to HCA's Homecoming together that fall. They still have many, many close friends from their days at HCA, and have great memories of tennis matches, basketball games, and chit-chatting in Mrs. Bridgers' English class!
Kristin & Bradley continued to date throughout high school and college. Both attended UNCW and graduated in 2010. Kristin and Bradley married on September 17, 2011 and now live in Rose Hill with their two children, Callie Jane and Harris.

Heather (Freeman) Cribb '97 and David Cribb '96
David Cribb and Heather Freeman began dating in September 1995 after a football game. David, originally from White Lake, and Heather, originally from Burgaw, attended each other's homecomings, proms, and graduations. Both graduated from East Carolina University, where David studied Business Administration and Heather, Middle Grades Education. Then, after 6 years of dating, they were married in June 2001. Currently, David and Heather live outside of Austin, Texas and have 3 boys: Blake, Tucker, and Sawyer.

Luanne (Reynolds) Johnson and Bob Johnson '76
Luanne Reynolds and Bob Johnson and met at HCA in 1970 when she was in 6th grade and he was 7th grade. Bob graduated from HCA in 1976, and they got married in July of 1979.
Bob and Luanne have 5 children, and 2 graduated from HCA.
Currently, they have 4 grandchildren at HCA, one grandchild who graduated from HCA in 2022, and one additional grandchild who become a Crusader in the fall of 2023. HCA is thankful for this love story and how the Johnson family has chosen to continue their legacy at Harrells Christian Academy.

Mary Anne (Russ) '86 and Daniel Ray Norris '86
"Mary and I met on the HCA Wallace-Teachey school bus when we were in the second grade. Mr. Rivenbark was our bus driver. Mary and I were in the same grade (Class of 1986) at HCA. I remember being so nervous when I asked Mary to the Homecoming dance our senior year when she was on the Homecoming Court. I thought I had won the lottery when she said yes! Mary was also my escort in the powder puff football game during our senior year Spirit Week when I was crowned "Queen." At the dance, she stomped on my white suede oxfords when I tried to kiss her. She was always the one that got away, but it was only "few years later" that I got the chance to kiss her again, and this time it ended up a bit more to my liking. Mary and I were married December 16, 2016 and we live in Wilmington." - Daniel Norris
Anna Caitlyn (Cannady) Paylor '08 and Steven Paylor '06
When Steven Paylor transferred to HCA for his senior year in the fall of 2005, Anna Caitlin Cannady was a sophomore. Although they didn't know each other at first, that fall, after the HCA football team won the 2005 State Championship game, Anna Caitlin and Steven talked for the first time. Later that year, they had Bible class together with Mrs. Margaret Toothman, and Steven asked Anna Caitlin to his senior prom. The rest is history!
Anna Caitlin and Steven have 3 precious children, Nathaniel, Ellie Claire, and Jackson. When asked about HCA, the Paylors say HCA will always have a special place in their hearts!
Lindsay (Wood) Rumbold '96 and Will Rumbold '95
"Lindsay and I met during my freshman year at HCA, and we dated throughout high school. We often spent our break time and lunch time sitting on the bench in front of Newkirk Auditorium talking and getting to know each other.
We both played sports throughout the year. I played football, basketball and baseball. Lindsay played volleyball, basketball and softball. She also cheered when that was allowed.
Lindsay and I would often spend our weekends together and, when there was not a sport going on, we would go to the movies and dinner in Wilmington.
Following high school, we dated through college. She and I became engaged on the same steps and bench we once shared when in high school in front of Newkirk Auditorium! May 4, 2022 will marked our 20th anniversary. We have 3 children, Mary Willow '26 and Marshall '30 who currently attend HCA and Isabella who graduated from HCA in 2022." - Will Rumbold
Kylie (Hoffman) Smith '98 and Chad Smith '97
When Kylie was in the 10th grade, Chad leaned over during Mr. Maus' geometry class to ask her to the homecoming dance. She whispered yes, and the rest is history. A cheerleader and football player quickly became a storybook romance. Kylie & Chad were married in 2000, and they have two children, Perry and Abbie Clare, who keep their lives busy and full. For Kylie & Chad, Harrells will always hold special memories of such a sweet, carefree time!