Campus News
​​​​​​​Crusaders Celebrate Service and Sacrifice
November 14, 2018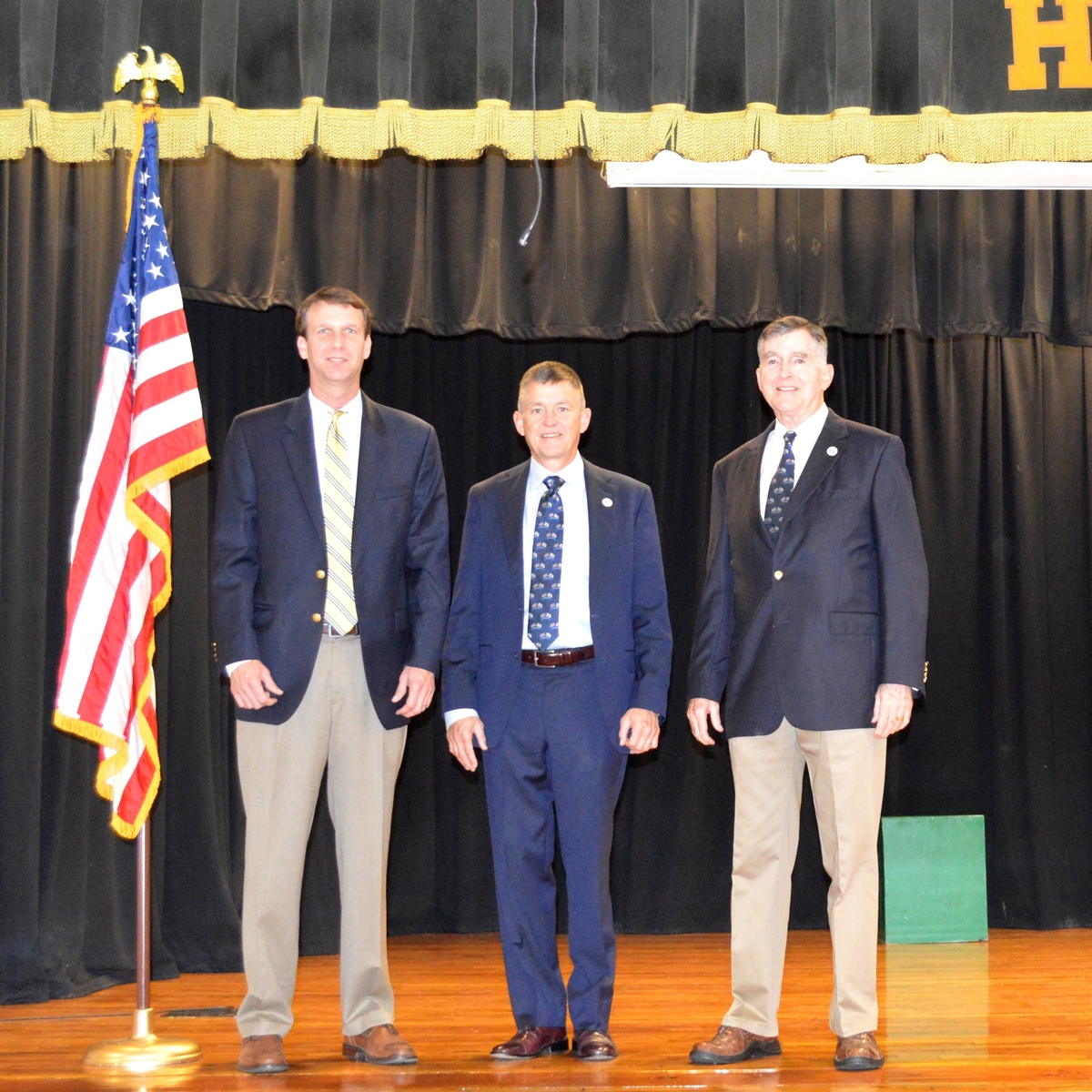 On the morning of November 8th, Harrells Christian Academy welcomed two highly decorated Veterans into their midst in a celebration of service and sacrifice. Retired Army General Dan Allyn and Retired Navy Captain Chuck Deleot shared their inspiring testimonies during HCA's school-wide Veterans Day chapel service, an event that students and faculty always look to with reverence and utmost sincerity. Both speakers appeared on behalf of the Patriot Foundation where Captain Deleot serves as President and General Allyn serves on the Advisory Board. The Patriot Foundation provides scholarship funding for children of killed, wounded, injured, or seriously ill soldiers from Fort Bragg, NC, Fort Campbell, KY, and Fort Carson, CO. Additionally, the foundation provides a percentage of funding for child care for the families of fallen and disabled soldiers whose surviving spouses need to obtain additional job training and development.
Both men have spent a lifetime serving their country and are now committed to continuing their outreach through public appearances and community events. In his powerful message to the students, General Allyn stated, "There is no limit to what our country can be if we focus on helping others instead of solely on our own pursuits." Allyn culminated over 36 years of military service with duty as the 35th Vice Chief of Staff of the Army from 2014-2017. He holds a Bachelor of Science degree from USMA, a Masters in National Security Studies from the Naval War College, and an Honorary Doctor of Humane Letters from Methodist University. His experiences have taught him "the value of selfless service," and he currently spends his time with his wife, Debbie, and their two service-centered children.
It was an honor to have Captain Deleot open the ceremony with these words, "We all are given a gift from God...to live a life of consequence." No one understands that better than the men, women, and families who serve in the US Military. Chuck Deleot grew up in Winston-Salem, North Carolina and received his A.B. degree from Duke University in 1967. He served on active duty as a Naval Intelligence officer from 1967-1972, and retired as a Captain in the Naval Reserve in 1990. Since then he has served as defense consultant for Science Applications International Corporation (SAIC) as a Chief Scientist/ Engineer and has also supported the Naval Postgraduate School with strategic planning services. Today, he commits much of his time to serving as President of the Patriot Foundation. Since it was founded in 2003, the Foundation has donated over $5,000,000 to help the families of servicemen and women killed, wounded, injured, or seriously ill in the Global War on Terrorism. It has provided over 1,800 college scholarships, as well as child care for spouses who need to go back to school.
The Patriot Foundation is grateful for all the contributions it has received from its many corporate partners. And during the chapel service, Captain Deleot acknowledged Harrells Christian Academy as being the first school to ever donate to the Patriot Foundation. In 2017, HCA gifted 10% of its proceeds from the annual 5K Run/Walk for technology to Patriot Foundation and continued that tradition this past Saturday, November 10th when they held their 6th annual 5K event. HCA Headmaster Andy Wells stated, "It is an honor for us to partner with the Patriot Foundation for our Veterans Day 5k. What they do for the families of those who are injured or killed in service is impressive. HCA is proud to play a small role in supporting these families, and we always strive to convey to our students the importance of the sacrifice that was made, and continues to be made by those in the military."
Thank you as always for your support of our school.